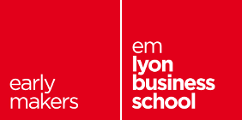 Big data for business
Syllabus
Official syllabus of the course at emlyon business school for 2017/2018 ( pdf)
This course provides to students in management an understanding of technical concepts which are now at the center of the business world: APIs, data visualization, machine learning, network analysis, text mining, big data, data protection, etc.

In terms of professional goals, after this course you will be equipped for positions where you need to have a broad view and understanding of the stakes of big data for the business.

This course offers a broad view on many topics in data science which are each covered more in depth in other courses at emlyon business school: see full list here.
9 modules covering important topics in big data
Each module consists in lecture materials, a bibliography and a quiz. Some modules have a accompanying video. Check the table of content below!
Group projects
In 2017/2018, the group project consists in creating a collective podcast. Each group of student will identify an expert in a domain of big data to interview and will record an episode.
The group project concerns students taking this course at emlyon business school, but you can have a look ( web page, slides, pdf, source )
Table of content
Week 1. What is "data", "big data" and how is it relevant to business?
Week 2. Data integration and APIs
Week 3. CRMs and segmentation / clustering
Week 4. Primers on network analysis and text mining Application: segmenting wine buyers with Gephi
Week 5. Data-driven value creation and business models based on data
Week 6. IoT, personalization and localization
Week 7. Data visualization
Week 8. Data Protection and compliance