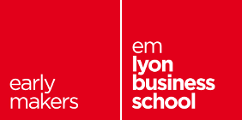 Big data x business
Syllabus
A French version of the method is available -> here <- .

This content is designed by Clement Levallois, Associate Professor and Chaired Segeco professor in data valuation at emlyon business school. .

These modules provide to managers an understanding of technical concepts which are now at the center of the business world: APIs, data visualization, machine learning, network analysis, text mining, big data, data protection, etc.

Each of these topics is covered more in depth in different courses at emlyon business school: see full list here.
9 modules covering important topics in big data
Each module consists in lecture materials, a bibliography and a quiz. Some modules come with an accompanying video. Check the table of content below!
Group projects

A group project can be added to these lessons. It consists in creating a collective podcast. Each group of participants must identify an expert to interview and will record an episode.
-> Check the podcasts recorded by emlyon participants in 2017/2018.
Table of content
Module 1. What is "data", "big data" and how is it relevant to business?
Module 2. Data integration and APIs
Module 3. CRMs and segmentation / clustering
Module 4. Primers on network analysis and text mining Application: segmenting wine buyers with Gephi
Module 5. Data-driven value creation and business models based on data
Module 6. IoT, personalization and localization
Module 7. Data visualization
Module 8. Data Protection and compliance
Module 9. Data Science, Machine Learning and Artificial Intelligence